On top of my super fun job of blogging for all of my friends on here, I work as a property stylist, helping clients get their houses ready for sale. Part of this includes filling their properties with furniture and all the small decor pieces. I absolutely love DIYing the decor pieces that I use in my clients properties, not only does it make the items unique but I can make them exactly how I want them, and not how the mass producers want them.
I have a few favourite things to style with such as candles and flowers but most of all.......books! You can use books for so many different things when styling, whether it be filling a book shelf, coffee table books, stack them to add height to furniture, I have even been known to put a stack of books under a bedside table to make it a little more grand looking. Books are fantastic, however you can get some ugly ones! Most people would throw those ones out but I like to embrace the ugliness! Don't throw them away.......make them pretty! I know a lot of people that pretty up books with paper, give it a few weeks or a few uses and the paper rips, you need something a little more heavy duty, something that can last the hard yards, get thrown on the ground and still survive. That something is definitely fabric!! So here's my quick and easy DIY project of fabric covered books.
Firstly though, I found a few books that I had already in my house, my styling books were being used already so I ended up using some average spiral bound books. Fabric covered books look so much better when you have a hard cover and spine book, but for this little DIY I decided I wanted to do something specific with my fabric covered books so a book that you could open and leave flat was suitable. I'll share my book purpose a little further down.
Let's start with what you need...
- Books
- Fabric
- Modge Podge
- Sponge for the Modge Podge
- Any stickers that you want to pretty it up a bit more and
- Washie Tape, because washi tape should have a use no matter what you're doing.
Firstly, lay your fabric out flat with your open book on top of it. Grab your scissors and start to cut around 3cms away from the edge of the book. Once you have cut the border, iron your fabric, the last thing you want is crease marks on your book cover!
Grab out your modge podge and squeeze it onto a board or plastic container, whatever you like, then lather your book cover with it. If you were covering a solid book, including the spine, you would start by gluing the spine then working your way out.
Once you have coated the book cover with modge podge or any other fabric to cardboard glue, lay the book down on the fabric and press it hard, once the fabric is stuck, open the book up and using your hands wipe over the cover of the book, smooth out any bubbles.
Once you have stuck it on and wiped over it firmly with your hands open up the book. Cut the corners of the fabric as shown in the photo below. This is simply so there isn't any bulky overlap.
Grab your modge podge again and start with the shorter sides of the left over material, glue the cardboard, not the fabric, you don't want glue to seep out onto the top of the fabric. Once you have done the two shorter sides, glue the long side shut. Then.....done!
If you were using a hard cover book then you would start with the spine then move to one side, once that side is complete finish the other side. Only do one side at a time, makes it a lot easier and a smoother process.
I decided to do something a little different with my books. I don't really do cards with my gifts. It frustrates me how much companies charge for them, you can keep the messages for as long as you like but most of the time you end up throwing them in the bin, message gone! Since I had my daughter I have become a little more sentimental about things like that but am still not prepared to jump on the card bandwagon. So instead, I have dedicated the pink book to Mothers Day and the green book to Fathers Day. I'm still in the process of decorating the inside cover of the books, labelling them with my stickers and washi tape. I know my timing is a little off but each year instead of giving each other a card and instead of our children organising a card they can write their little message to us in these books. It will be beautiful to re read their messages each year and see the scribbles from the beginning of their little lives to their teenage years and beyond all in one location. It's a little keepsake that I will always hold onto and will keep receiving a new message each year. I love the idea even though I will have to remind my husband about them around a week for Mothers Day each year.
Here are a few other images of fabric covered books for some inspiration. Please share any books that you might have covered with fabric to pretty them up a bit! Look forward to chatting again soon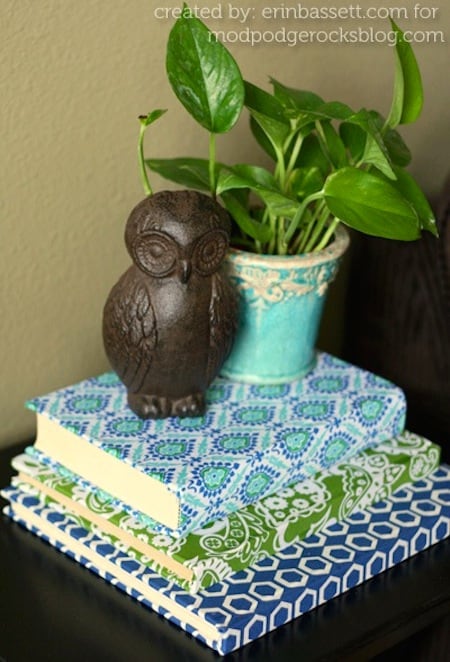 xxo
Kim
(Photos: Styled to Profit, unless credited otherwise)